The League Japan Football is a top professional association football league to which ETU and its rivals belong.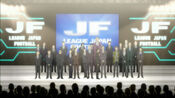 The League Japan Football has 18 teams. The clubs play in double round-robin (home and away) format, a total of 34 games each. A club receives 3 points for a win, 1 point for a tie, and 0 points for a loss. The clubs are ranked by points, and tie breakers are, in the following order:
Goal differential
Goals scored
Head-to-head results
Disciplinary points
A draw would be conducted, if necessary. However, if two clubs are tied at the first place, both clubs will be declared as the champions. The bottom three clubs will be relegated to the second division. The league session is between early May to early December.
Major Titles
Edit
The following three titles were named by Tokyo Victory Coach Hiraizumi as the major titles the club was aiming to secure in the current season during the League Press Conference.[1]
League Title
Japan Cup
Tenguu Cup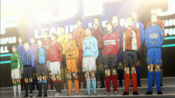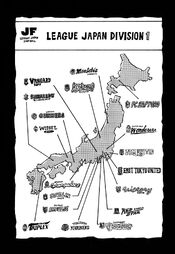 The clubs in the J-League are listed below in no particular order.
Current Season League Table
Edit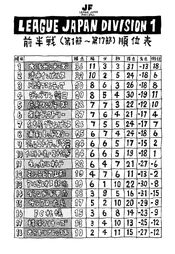 The league season table reflects the team standings as they stood when the league season entered the summer hiatus. The bottom three teams are in danger of relegation into Division 2 next football season.
References
Edit
↑ 1.00 1.01 1.02 1.03 1.04 1.05 1.06 1.07 1.08 1.09 1.10 1.11 1.12 1.13 1.14 1.15 1.16 1.17 Gaint Killing Anime; Episode 6
↑ Giant Killing Manga; Volume 4, page 02
↑ 3.00 3.01 3.02 3.03 3.04 3.05 3.06 3.07 3.08 3.09 3.10 3.11 3.12 3.13 3.14 3.15 3.16 3.17 3.18 3.19 3.20 3.21 3.22 3.23 3.24 3.25 3.26 3.27 3.28 3.29 3.30 3.31 3.32 3.33 3.34 3.35 3.36 3.37 3.38 3.39 3.40 3.41 3.42 3.43 3.44 3.45 3.46 3.47 3.48 3.49 3.50 3.51 3.52 3.53 Giant Killing manga; Volume 18