Javelin Iwata
Nickname
Kanji
Romanji
Captain
Manager
Kurashi
Last Season Finish
6th
Javelin Iwata is one of the rival clubs of East Tokyo United. They were 6th in league ranking in the prior season.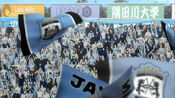 Javelin Iwata faced ETU for the 1st League match. They crushed ETU 4-0. ETU started the match strong but following a lucky goal, ETU started playing badly.[1]
Following the first goal, Iwata dominated and the match ended with Kurashi commenting on the frailty of managing a new team.[2] With 29 points, Iwata was in 4th place when the league season entered the summer haitus.[3]
References
Edit
↑ Giant Killing Anime; Episode 6-7
↑ Giant Killing Anime; Episode 7
↑ Giant Killing manga; Volume 18
Ad blocker interference detected!
Wikia is a free-to-use site that makes money from advertising. We have a modified experience for viewers using ad blockers

Wikia is not accessible if you've made further modifications. Remove the custom ad blocker rule(s) and the page will load as expected.